Museum of Yachting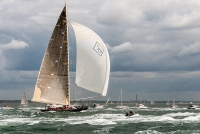 Yachting © David Blaikie
Proud of its heritage as a top sailing destination, Newport is equally proud of its museum dedicated to the sport, which has been acclaimed as one of the best sailing museums in the nation.
The Museum boasts a variety of artefacts and exhibits such as a vast collection of classic power and sail yachts, a gallery devoted to chronicling the America's Cup competition held in Newport between 1851 and 2000; a single-handed sailor's hall of fame; and a glimpse into the sailing lifestyle of the Bellevue Avenue Mansions 'gilded age' brigade.
Address: 45 Washington Square, Fort Adams State Park, Newport
Website: www.maritimemuseums.net/RI.html
Telephone: (401) 848-5777
Opening times: Open 1 June through 1 October, Tuesday to Saturday 12pm-5pm. Closed Sunday and Monday.
Admission: $5 adults, free for children under 18.