Block Island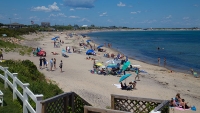 Block Island © Timothy J. Quill
Barely 12 miles (19km) from the shore of modern east coast America lies a tiny 'treasure island' virtually unspoiled by progress, where the main past time offered to visitors is peaceful pleasure and kicked-back relaxation. Time seems to have stopped on Block Island in the Victorian era, particularly in its main, and only, urban concentration, known as Old Harbor, where ferries from Rhode Island arrive several times a day.
The island abounds with quaint architecture, spectacular views and delicious native seafood. Charming inns, beautiful beaches and bike trails make up the entire tourist infrastructure required to lure holidaymakers here in droves every summer to spend long indolent days splashing and sunning themselves. Winter brings some savage storms and life is fairly tough for the 800-odd permanent residents who depend not only on each other, but also annually warmly welcome the summer visitors, for their survival.
Block island, named for a Dutch navigator who found it in 1614, is only seven miles (11km) long and three miles (5km) wide, but boasts a unique array of flora and fauna, a varied terrain of hills and freshwater ponds, and the spectacular southern Mohegan Bluffs that rise 200 feet (61m) above the sea.
Website: www.blockislandinfo.com
Telephone: (800) 383-2474
Transport: Accessible by ferry, departing from Judith's Point.