Block Island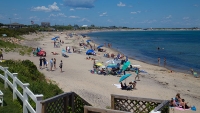 Block Island © Timothy J. Quill
Block Island lies barely 12 miles (19km) from the shore of the modern east coast. A tiny treasure island, peaceful pleasure and laidback relaxation are favourite pastimes and it's virtually unspoiled by modern progress.
Time seems to have stopped on Block Island, settling comfortably into the Victorian era. This is particularly evident in its main urban concentration known as Old Harbor. Ferries from Rhode Island arrive several times a day.
Quaint architecture, spectacular views, and delicious native seafood abounds. Charming inns, beautiful beaches, and gorgeous bike trails make up the entire tourist infrastructure that lures holidaymakers in droves every summer. It's also perfect for long lazy days spent in the water beneath warm sunshine.
Winter brings some savage storms, making life fairly tough for the 1000-odd permanent residents. Much of their living depends on warmly welcoming the annual influx of summer visitors, as well as a strong sense of close community.
Named after a Dutch navigator who chartered the island in 1614, Block Island is only seven miles (11km) long and three miles (5km) wide. It has a unique array of flora and fauna, varied terrain of hills and freshwater ponds, and the spectacular southern Mohegan Bluffs rising 200 feet (61m) above the sea.
Website: www.blockislandinfo.com