Country Music Hall of Fame and Museum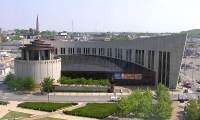 The Country Music Hall of Fame © Sean Russell
If you are a visitor to Nashville, chances are you are there because you are a country music fan. That being the case the best place to begin your visit is the not-to-be-missed Country Music Hall of Fame and Museum in the Downtown entertainment district.
The main permanent exhibit, Sing Me Back Home, is a journey through the history of country Music, drawing on the museum's rich collection of historical costumes, memorabilia, instruments, photographs, manuscripts and other objects. In addition to the main exhibit, temporary exhibits focus on individual Hall of Fame Inductees, and the Archive Spotlight Series highlights specific themes from the main exhibition. Live performances, interactive exhibits, and lots of great music supplement these artefacts.
The museum is home to vast collections of moving images, recorded sound, and photographs, interesting in their portrayal of country music as well as the development of recordings, filming and photography. Among the exhibits are Elvis Presley's gold-leaf covered Cadillac, Emmy Lou Harris' jewelled cowboy boots and Bob Dylan's autographed lyric sheets.
Live music is played in the atrium and digital film presentations are offered in the theatre. Visitors can also watch museum archivists and restoration experts at work, and study a vast wall displaying chart-topping gold and platinum country records.
Address: 222 Fifth Avenue South
Website: www.countrymusichalloffame.com