Ryman Auditorium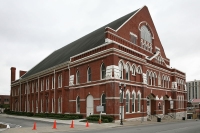 Ryman Auditorium © Daniel Schwen
This National Historic Landmark in downtown Nashville, nicknamed the Mother Church of Country Music, is regarded as the founding home of country music, having been the performance venue for the Grand Ole Opry from 1943 to 1974.
The theatre was originally built in 1892 by Thomas G. Ryman as a gospel tabernacle after his sudden conversion to Christianity. The building served as an evangelical meeting hall immediately after being erected, with regular performances by gospel singers and choirs becoming more and more common with the passing years. Eventually musical performances became the building's main focus, and a stage was built for the Grand Ole Opry's broadcasts. Such great names as Sarah Bernhardt, Patsy Cline, and Elvis Presley trod the boards here in their time.
Today the Grand Ole Opry has moved on to a new theatre, but the Ryman Auditorium has been restored and is still a popular performance venue where concerts are held regularly. By day the theatre acts as a museum, which visually portrays the stories of its rich history with a series of displays and exhibits highlighting the building's history as well as all the great names that have performed there over the years.
Address: 116 Fifth Avenue North
Website: www.ryman.com
Telephone: (615) 889 3060
Opening times: Daily 9am-4pm