Adolpho Ducke Botanical Garden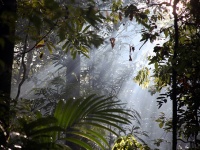 The Amazon Rainforest © Jon Rawlinson
This vast forest reserve, covering more than 39 square miles (100 sq km) to the east of Manaus, provides tourists with the opportunity to discover what lies beneath the dense Amazon rainforest canopy. The park building complex contains plant nurseries and an exhibition of the woods of Amazonas, as well as a library and an eatery. A network of trails has been created in the forest, and local youths are trained and employed as guides to direct visitors along the paths (although not all of them speak English). It can be difficult to get into the Amazon for a genuine experience of the rainforest and this vast botanical garden offers a convient oppertunity for close look at the unspoilt forest world.
Address: Av. Margarita, Cidade de Deus a Manaus
E-mail: agendamento@museudaamazonia.org.br
Website: www.museudaamazonia.org.br/en/
Telephone: +92 99280 4205
Opening times: Daily (except Wednesdays) from 8.30am to 5pm. Wednesdays by appointment.
Admission: BRL 20 for a guided tour; BRL 20 for a guided tour and to climb the research tower