Grand Ole Opry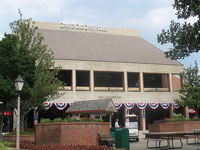 Grand Ole Opry House © Adam Mcmaster
The home of the world-famous country music show, the Grand Ole Opry, is now in Opryland Drive in a vast 4,400 seat auditorium which is part of the Opryland resort complex north of Nashville's city centre. From here the world's longest running radio show is still broadcast on the Nashville station WSM (650 on the AM dial), featuring new stars, superstars and legends of country and bluegrass music performing live on stage.
No visit to Nashville is complete without attending a show at the Grand Ole Opry, which has been going strong on the airwaves since 1925. Shows run throughout the week on different days and times. From February to October, the shows are hosted by the new Grand Ole Opry House while the winter run from November to January is hosted by the Opry's former permanent home, the Ryman Auditorium.
The Ryman Auditorium housed the Grand Ole Opry shows from 1943 until 1974, when the Grand Ole Opry House was built with a much larger capacity. The provide some historical continuity, a large circular piece was cut from the Ryman Auditorium's stage and placed at the centre of the new Opry House stage.
Address: 2802 Opryland Drive, Opry Plaza
Website: www.opry.com