Belle Meade Plantation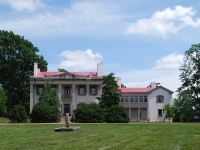 Belle Meade Plantation © Colin1769
One popular Nashville attraction that is not music-related is the Belle Meade Plantation, known as 'the queen of Tennessee plantations', boasting an 1853 Greek Revival mansion that has been carefully restored to show its original elegance.
The plantation was founded in 1807 by John Harding, who brought thoroughbred racing and breeding to Tennessee from the commonwealth of Virginia. Despite a horse racing hiatus during the Civil War, the Belle Meade Plantation developed under Harding and in 1867 Harding held the first sale of horses bred on his farm. In that same year and the one following, he also won more horse races than any other man in the fledgling United States up to that point.
Harding's son-in-law, General William Hicks Jackson, continued breeding thoroughbreds and managing the plantation after Harding's death. However, the economy was weakening and as a result, parts of the plantation were auctioned off bit by bit. By 1906, the entire estate had been auctioned off, including the Greek Revival manison.
Visitors to the plantation today can view the authentic Civil War bullet holes that riddle the old mansion's pillars. Among the outbuildings that survive on the 12-hectare (30-acre) site is one of the oldest houses in Tennessee, a log cabin built in 1790. There is also a carriage house, visitor centre, tearoom and gift shop. Tours of the antebellum furnished mansion and grounds are given by guides dressed in period costume.
Address: 5025 Harding Pike
Website: www.bellemeadeplantation.com