Parthenon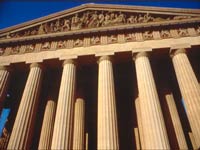 The Parthenon © Gary Layda, Metro Photographer
The centrepiece of Nashville's Centennial Park is the world's only full-scale replica of the Parthenon temple in Athens, Greece, complete with a re-creation of the 42ft (13m) high statue of Athena that stood outside the temple in ancient Greece. Like the original, the Partenon in Nashville faces east to let in light as th sun rises. The Parthenon was originally built for Tennessee's 1897 Centennial Exposition, its plaster decoration being direct casts of the Parthenon Marbles and original sculptures which adorned the pediments of the Greek Parthenon that was built in 438 BC. The massive bronze doors measuring 24 feet high and 7 feet across come in two sets of two, making them the largest set of matching doors in the world. The building today serves as Nashville's art museum, with a permanent collection of 63 painitngs donated by James M. Cowan that highlights 19th and 20th century American artists. 57 artists are represented by the collection, and all of the paintings are oil on canvas. Many of the paintings are Impressionist in style. A variety of temporary shows and exhibitions are also presented, and lectures covering a wide variety of topics related to the arts are hosted at the museum on a regular basis.
Address: Centennial Park, West End Avenue and 25th Avenue
Website: www.parthenon.org
Telephone: (615) 862-8431
Opening times: Tuesday to Saturday 9am-4:30pm. Sundays 12:30pm-4:30pm. Closed Mondays.
Admission: $6 adults; $4 seniors and children 4-17; Free for children under four years of age.