Tennessee State Museum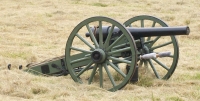 American Civil War cannon © Charles Edward
The Tennessee State Museum is one of the largest of its kind in America with a huge array of permanent exhibits telling the story of Tennessee, starting out 15,000 years ago in prehistoric times and culminating in the early 20th century. The museum was originally founded in 1817 by a portrait artist in order to display paintings. However, the collections grew into much more than that, and in 1937 the General Assembly combined the original museum collection with artefacts from World War I and other state museum collections into one museum, housed on the lower level of the War Memorial Building.
In 1981, the Tennessee State Museum moved to the James K. Polk Center, where it now occupies three floors, approximately 60,000 square feet of exhibits. Much of the museum is focused on history and is displayed in the form of permanent exhibits, while changing exhibits often display the works of local and other artists.
Prominent historic figures are highlighted, like former US President Andrew Jackson, Daniel Boone, and legendary frontiersman Davy Crockett. Exhibits include displays of furniture, silverware, weapons, uniforms, battle flags, quilts, and artworks from the civil war period. The museum also features reproductions of a 19th-century gristmill, and 18th-century print shop, a frontier cabin, antebellum parlour, and a Victorian painting gallery.
Address: 505 Deaderick Street
E-mail: museuminfo@tnmuseum.org
Website: www.tnmuseum.org
Telephone: (615) 741 2692
Opening times: Tuesday - Saturday 10am-5pm, Sunday 1pm-5pm, closed Monday.