Graceland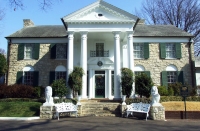 Graceland, the home of Elvis Presley © Joseph Novak
Memphis' biggest attraction is the second-most visited house in the United States after the White House. The Graceland Mansion and its attendant buildings and attractions were home to the 'King of Rock 'n Roll', Elvis Presley, who died in 1977.
Thousands of fans of all ages still make pilgrimages here to tour the house, grounds and visit his grave. The house has been kept as close to how it was when Elvis lived there. Mansion tours are offered with audio players describing the rooms and memorabilia, including Elvis' trophy building, separate from the mansion, that houses all of his awards, tropies and platinum records.
Also open for viewing is the Elvis Presley Automobile Museum housing the star's renowned 1955 pink Cadillac, 32 other cars that were owned by Elvis lined up along a recreation of a tree-lined street complete with a 1950's drive-in theatre, a collection of Elvis' personal belongings, and a re-creation of an airport terminal where the singer's two private jets are on display.
Graceland Plaza offers several dining options for visitors, most with a focus on 1950's and 1960's diner-style food, including some of Elvis' favourites like the infamous deep-fried peanut butter, banana and bacon sandwich.
As of 2006, Graceland joined the White House, Mount Vernon and Monticello as a National Historic Landmark, the USA's highest designation for historic properties, usually accorded to the homes of American presidents. Long live the King.
Address: Elvis Presley Boulevard
Website: www.graceland.com
Telephone: Reservations office: (901) 332 3322
Opening times: March to October: Monday to Saturday 9am-5pm, Sunday 9am-4pm. November: daily 9am-4pm. From December to February, the mansion is open Wednesday to Monday 10am-4pm; plaza attractions open daily.
Admission: Mansion tour: $38.75 adults, $34.90 children 13-18; other concessions available. Various combination tickets are also available.