Sun Studio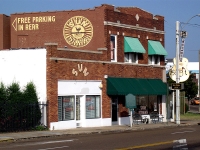 Sun Studios © David Jones
Visitors who come to Memphis to pay homage to Elvis Presley inevitably find their way to the legendary recording studio in Union Avenue where the King of rock 'n roll's career, and that of numerous other stars, began. The story is that Elvis first walked into the Sun Studio in the early 1950s to record a song as a birthday present for his mother. The owner of the studio was self-taught, and made several 'mistakes' that resulted in the sound we now know as the first version of rock 'n roll.
The rest is musical history, now enshrined in the studio that also launched the likes of Johnny Cash, Roy Orbison, and Jerry Lee Lewis on the road to stardom. Visitors to the studio can hear outtakes from recording sessions, touch Elvis' first microphone, view a great deal of memorabilia, and listen to anecdotes. Alongside the studio is the Sun Studio Café, a diner that retains its 1950s style and is still a favourite musician's hangout.
The studio still hosts live sessions and recordings with current artists. Free shuttles are on hand to transport visitors to and from either Graceland or the Rock 'n Soul Museum.
Address: 706 Union Avenue
Website: www.sunstudio.com
Opening times: Daily 10am-6pm.
Admission: $14 adults, free for children.