Memphis Rock n' Soul Museum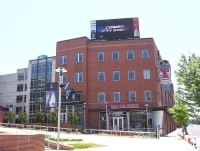 Rock N' Soul Museum © Thomas R Machnitzki
Put together by Smithsonian Institution, the Memphis Rock n' Soul Museum is a collection of rare recordings, vintage films, photographs, and interactive exhibits celebrating the history of American musical pioneers. The museum is located on the corner of the legendary Highway 61, otherwise known as the Blues Highway, and the equally famous Beale Street, home of urban jazz and blues.
The exhibition fills seven galleries and covers the development of American popular music over the past century. From gospel to blues and rock, the museum exhibits costumes and guitars from performers like Elvis Presley, Ike Turner's piano, and B.B. King's 'Lucille' guitar. Each of the seven galleries has a specific focus - rural culture, rural music, coming to Memphis, Sun Records and youth culture, soul music, social changes, and the bravo gallery, focused on the performers and other music industry players who contributed to a successful civil rights movement.
The time covered by the exhibition reaches from the start of blues and rock in the 1930's with rural field hollers and sharecroppers, all the way to the present day and the continuing influence these genres have on the world, both musically and culturally. An audio guide is available and takes visitors on a tour of the music that was the biggest influence on culture and lifestyle in the 20th century.
Address: FedEx Forum Plaza, 191 Beale Street
E-mail: toni@memphisrocknsoul.org
Website: www.memphisrocknsoul.org
Telephone: (901) 205 2533
Opening times: Daily 9.30am-7pm.
Admission: $12.50 adults, $9.50 children, other concessions available.