Pink Palace Museum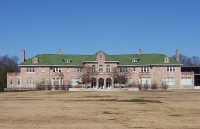 Pink Palace Museum © Thomas R Machnitzki
The Pink Palace, a nickname bestowed on this elaborate pink marble Memphis mansion by the locals, was intended to be a luxury home for the founder of the Piggy Wiggly chain of supermarkets, Clarence Saunders, when he began building it back in the 1920s. Before the ostentatious mansion was completed Saunders declared bankruptcy, and the homestead ended up in the hands of the city of Memphis for use as a museum.
The Pink Palace Museum is devoted to culture and natural history, its origins preserved in the form of a replica of the first self-service grocery store in the country, Saunders' Piggly Wiggly. Visitors can also explore dioramas, exhibits, and audio-visual displays that trace Memphis' development from the arrival of the Spanish explorers through the Civil War and yellow fever epidemics. An award-winning medical exhibit highlights Memphis' development into a health care centre for the United States. Dinosaurs and fossils also feature, as does an excellent medical-history section.
The museum also includes a planetarium, an Imax theatre, a nature centre, and a science centre. Nearby are two further houses of historical interest - the Magevney House, an 1830's clapboard house built by Irish immigrants that is furnished as it would have been originally, and the Mallory-Neely House, a 25-room house built in 1852 that still has all its original furnishings.
Address: 3050 Central Avenue
Website: www.memphismuseums.org
Telephone: +901 636 2362
Opening times: Monday - Saturday 9am-5pm, Sunday 12pm-5pm.
Admission: $13 adult, $9 children, other concessions available.