Pollensa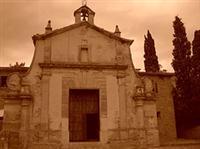 Situated in the hills, towards the northeast of Mallorca, Pollensa is a peaceful old town that has been largely unaffected by tourism. The town was established a few miles inland to protect against any sudden pirate attacks; its harbour, Puerto Pollensa, was left as an unprotected outpost. Today the port has grown into a popular family resort. Some of Pollensa's medieval centre remains around the Plaça Major, the main square, including the church of Nostra Senyora dels Àngels.
From the outside, the church is fairly austere, the sheer stone façade is pierced only by a large rose window, but the interior is highly decorative, particularly during the packed Sunday morning services when it is ablaze with candles. Other than the church, the main square houses a cluster of bars and cafés, and on Sunday mornings, a busy market. Just north of the square is the Via Crucis (Way of the Cross), a long stone stairway bordered by ancient cypress trees.
At the top, in a small chapel, is a much-revered statue of Mare de Déu del Peu de la Creu (Mother of God at the Foot of the Cross). On Good Friday, a figure of Jesus is slowly carried down the steps by torchlight in the Davallament (Lowering). Perched on a hill just south of Pollensa is a rambling 18th-century monastery, a peaceful and serene spot to take in wonderful views of the surrounding area. The monastery is an hour's walk from town.