Fort Sumter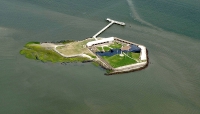 Fort Sumter © Methaz
Situated on a small manmade island in the bay, the Fort Sumter National Monument guards the entrance to Charleston Harbour. It's one of the most important historic military sites in the country, built using 70,000 tons of granite and rock brought from as far afield as New York City.
The first shots of the American Civil War were fired at Fort Sumter in 1861. With the secession of South Carolina, the Confederates demanded the surrender of the fort and after 34 hours of continuous bombardment, the Union forces had no choice but to relinquish their hold. The Union troops became the first prisoners of the Civil War.
The fort became a symbol of resistance until it was retaken by Union forces in 1865 after nearly four years of continual attack, reducing most of the fort to rubble. Park rangers conduct free tours around the restored structure, which includes a museum with historical displays.
Website: www.nps.gov/fosu