Plantations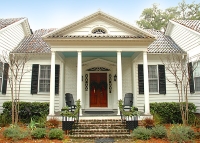 Mansfield Plantation © Thomas Namey, Namey Design Studios
Along the Ashley River are a series of magnificent plantations that can be visited, and some gems can also be found north along the highway towards Georgetown, where the grounds of Boone Hall Plantation are the main attraction. A majestic oak avenue leads to the estate that has been the model for several films including Gone With the Wind and North and South. The original slave quarters and cotton gin house can be visited along with the classic mansion, all furnished and decorated to look as they would originally have looked when the house was built.
Closest to Charleston, along the Ashley River, is Drayton Hall, the oldest preserved plantation house in America, dating from 1742. The Georgian mansion is a National Historic Landmark and the only plantation house on the river to have survived the Civil War completely intact.
Middleton Place was largely destroyed during the Civil War, but the south wing has been restored and houses an impressive collection of silver, historic documents, furniture and paintings. The plantation's gardens are the oldest landscaped gardens in the country, designed in 1741, and the estate also boasts stable yards filled with heritage breeds of cows, goats, pigs and chickens. The ornamental lakes and surrounding gardens are home to roaming peacocks and other farm animals.
Magnolia Plantation was founded in 1676 by the Drayton family. The plantation opened its doors to the public in 1870, allowing all comers to view the gardens, and thus became the oldest public garden in the country. The stunning decorative gardens can easily be viewed on tram tours that cover the grounds.
South Carolina is blessed with many impressive plantation estates and there are gems to be discovered in addition to the favourites listed here.
Website: www.draytonhall.org