Bromo-Tengger-Semeru National Park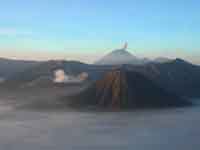 The Bromo-Tengger-Semeru National Park encloses spectacular volcanic landscapes and one of the most impressive natural sights in Indonesia. The ancient Tengger crater in its midst stretches for six miles (10km) and within its sheer volcanic walls are three peaks, namely Batok, Kursi and the smoking Mt Bromo. Thousands of tourists make the journey up Mt Bromo for the unforgettable spectacle at sunrise (during the dry season) when the surrounding landscape takes on an otherworldly quality. The views from the top and into the smoking crater are unbelievable. To reach the foot of the volcano one must cross the vast Sea of Sand out of which Mt Bromo rises, either on horseback or by foot, and then climb a flight of stairs that leads to the crater rim where the unmistakable smell of sulphur permeates the air. Mount Semeru, another volcano in the park, is one of Indonesia's most active volcanoes and every 20 minutes or so it belches out smoke, to the delight of visitors. The small village of Cemora Lawang, perched at the edge of the Tengger crater, is the most popular place to stay and has the best views of the area. With unique landscapes that look like something out of a fantasy novel, this National Park is an exciting area to explore and a dream come true for photographers.
The nearest big city to the park is Yogyakarta and although it takes more than 10 hours to drive to the volcanoes it is a popular excursion and is included in many tour packages.
Address: Park office: Jl.R.Intan No 6, Malang, East Java