Yellowstone National Park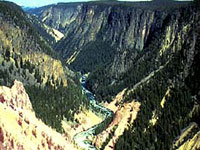 The world's first national park, Yellowstone was established in 1872 and despite its popularity today, most of the park still remains an undeveloped wilderness of magnificent mountain scenery, waterfalls, alpine lakes and rivers. It is renowned for its geothermal wonders and abundance of wildlife. Spilling over into Montana and Idaho, the enormous park is situated on top of the Yellowstone Caldera, a collapsed volcanic crater that was formed 600,000 years ago and holds within it the greatest geothermic area in the world. This unique environment includes features such as exploding geysers, thousands of steaming fumaroles, hot springs and bubbling mud pools, and is where the park's most famous attraction, the Old Faithful Geyser is to be found, drawing thousands of tourists to witness its regular eruption of steaming water.
Yellowstone is also home to the largest concentration of wildlife in lower USA, including grizzly and black bears, wolves, moose, and large herds of bison and elk. The two narrow waterfalls of the Grand Canyon of the Yellowstone River cut a striking picture in the yellow-coloured rock that gives the park its name, with superb views and hiking trails for all abilities. The large alpine Yellowstone Lake fills the eastern part of the caldera and offers opportunities for boating and fishing expeditions in summer. All places of interest are accessible along the loop roads, but the intensity of visitors in summer, especially between July and August, means that one needs to hike away from the main paths to experience the true wilderness of Yellowstone National Park.
Website: www.nps.gov/yell
Telephone: (307) 344 7381 (recorded information)
Transport: A bus service from Bozeman, Montana to West Yellowstone, Montana is available all year. A bus service directly from Idaho to West Yellowstone operates during the summer months. Commercial transportation from Bozeman to Gardiner, Montana is available during the winter and summer seasons. Commercial transportation to the park from Cody and Jackson is available during the summer season. There is no public transportation within the park, but many commercial businesses offer tours
Opening times: Most visitor centres are open in summer only, from 8am to 7pm daily, except the Albright Visitor Center, which is open year-round. The North Entrance remains open year-round to traffic. Some areas and roads are not accessible during winter, see website for details.
Admission: $25 (vehicle), $12 (individual hiker or cyclist). The entrance fee is valid for seven days and covers both Yellowstone and Grand Teton National Parks. Children 16 and under are free.