Grand Teton National Park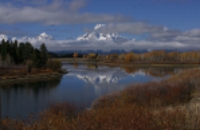 Oxbow Bend, Grand Teton National Park © Gregory "Slobirdr" Smith
Occupying the valley of Jackson Hole, Grand Teton National Park's identifying feature is the sharp granite peaks of the impressive Teton Range, with the dramatic Cathedral Group known as 'Les Trois Tetons' or 'The Three Beasts' towering above the valley floor. At their centre is the Grand Teton, the 13,770-foot (4,197m) peak that defines the skyline and dominates almost every view within the park. The mountains are popular with climbers and hikers, as well as photographers who can capture a variety of different angles from the park's scenic winding road or on one of its numerous trails that forms part of a vast network of hikes starting from the valley floor.
Beneath the Teton Range lie a string of lakes and the scenic Snake River that meanders the length of the park, offering numerous opportunities to kayak, fish, and raft. The stunning scenery can be easily seen and enjoyed from a drive through the park, but taking to the mountain trails or waterways is the best way to appreciate the spectacular views and experience the beautiful backcountry. A great abundance of large wildlife roams the valley floor, including moose, elk, bison, and grizzly and black bears.
Website: www.nps.gov/grte
Telephone: 307 739 3300
Admission: $35 per vehicle, $30 per motorcycle or snowmobile, $20 per person or bicycle.