Buffalo Bill Historical Center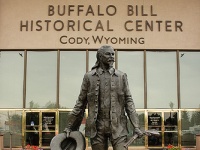 Buffalo Bill Historical Center © cheukiecfu
The Buffalo Bill Historical Center is an immense complex containing five world-class museums and a research library, including the Buffalo Bill Museum, Plains Indian Museum, Cody Firearms Museum, Whitney Gallery of Western Art, and the Draper Museum of Natural History.
The Buffalo Bill Museum focuses on the personal and public lives of William 'Buffalo Bill' Cody within the American West, with artefacts tracing the years of the Pony Express, Indian Wars, Civil War and his Wild West Shows. The Cody Firearms Museum contains the most complete collection of American weapons in the world, the Whitney Gallery features masterworks of the West, and the ecosystem of the Yellowstone area is presented at the Natural History Museum. The Plains Indians Museum highlights the story of the lives of the Plains Indian people, their culture, history, values and traditions, and their lives today through one of the country's largest and finest collections of art and artefacts.
The centre runs a variety of educational programmes for children and adults, ranging from book readings and lectures to interactive family events like National Day of the American Cowboy. Check the website for schedules of upcoming events.
Address: 720 Sheridan Avenue
Website: www.bbhc.org
Telephone: (307) 587 4771
Opening times: November to March: 10am-5pm (Thursday to Sunday); April: 10am-5pm daily; May to 15 September: 8am-6pm daily; 16 September to October: 10am-5pm daily.
Admission: $18 adults, $10 children 6-12. Other concessions also available. Fees include admission to all five museums, valid for two consecutive days.