Capitol Square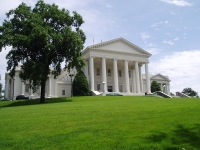 Virginia State Capitol © Anderskev
Richmond's Capitol Square is an oasis of old trees and green lawns in the heart of the downtown area, perched on a hilltop. The magnificent centrepiece is the neo-classical State Capitol building, designed by Thomas Jefferson, which has been in continuous use since 1788. In the Capitol's Rotunda stands Virginia's most treasured artwork, the life-sized statue of George Washington sculpted by Jean Antoine Houdon, for whom Washington posed.
Another highlight of the square is the Governor's Mansion, home of Virginia governors since 1813. The mansion, which has been restored, still contains its original woodwork, plaster cornices, and ornamental ceilings and is open for tours on Tuesdays, Wednesdays, and Thursdays (first floor only). Other historic buildings in the square include the old Bell Tower, dating from 1824, which houses a visitor centre providing tourist information about Virginia; and the Neo-classical Old Finance Building.
There are a few notable statues within the square, including General Thomas J. 'Stonewall' Jackson, Governor William 'Extra Billy' Smith, and poet Edgar Allen Poe. On nice days, visitors can stroll around the Colgate Darden Memorial Garden, a pretty pedestrian walkway along the north-eastern side of the square.
Address: Main entrance on Bank Street, between 9th and 10th Streets
Website: www.vacapitol.org/square.htm
Telephone: (804) 698 1788
Opening times: Daily 6am-11pm