Richmond National Battlefield Park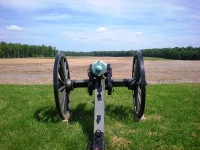 Richmond National Battlefield Park © Sarah Stierch
Between 1861 and 1865, Union armies repeatedly set out to capture Richmond, strategic capital of the Confederacy, and end the Civil War. Three of those campaigns came within a few miles of the city. The park commemorates 11 different sites associated with those campaigns, including the battlefields at Gaines' Mill, Malvern Hill, and Cold Harbor. In 1865, President Abraham Lincoln made a historic visit to the battlefields of Richmond days before his assassination, urging an end to the war.
Established in 1936, the park protects 763 acres of historic ground. There is a visitor centre in the Tredegar Irons Works on Richmond Riverfront Canal Walk at the corner of Tredegar and 5th Streets. Here, visitors can watch a film depicting the battles around the city and get information about self-guided tours of the battlefields. There are roughly seven miles (11.2km) of well-maintained walking trails around the battlefields.
Website: www.nps.gov/rich
Telephone: (804) 226 1981
Opening times: Battlefields are open from sunrise to sunset. Visitor centre open 9am to 5pm. Closed Thanksgiving, 25 December, and 1 January.
Admission: Free