Virginia Museum of Fine Arts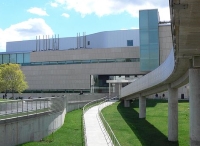 Virginia Museum of Fine Arts © Morgan Riley
Richmond boasts an exceptional Fine Arts Museum, which presents a panorama of world art from ancient to modern, including the largest public Fabergé imperial Easter egg collection outside of Russia, consisting of roughly 150 jewel-encrusted creations made for Tsars Alexander III and Nicholas II. The Museum is also home to a collection of English silver, one of the world's leading collections of the art of India, Nepal, and Tibet, and six Gobelin Don Quixote tapestries.
Address: 200 N. Boulevard
E-mail: info@vmfa.museum
Website: www.vmfa.state.va.us
Telephone: (804) 340 1400
Opening times: Saturday to Wednesday 10am-5pm, Thursday to Friday 10am-9pm.
Admission: Free.