St John's Episcopal Church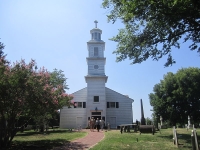 St. John's Church © Billy Hathorn
St John's Church has stood on Richmond Hill above the James River since 1741, and is known for having been the venue for the second Virginia Convention in 1775, attended by George Washington and other historic personalities. The church is also where legendary Pocahontas was baptised and married to John Rolfe. The wooden building still boasts its original pulpit and some exquisite stained-glass windows. Between May and September living history performances are given every Sunday recreating the historic Second Virginia Convention. Informative tours explore the historic significance of the church building and grounds.
Address: 2401 East Broad Street
Website: www.historicstjohnschurch.org
Telephone: (804) 648 5015
Opening times: Guided tours Monday to Saturday 10am to 4pm (3.30pm in winter); Sunday 1pm to 4pm. Sunday services at 8.30am and 11am.
Admission: $8 adults, $6 children 7-18. Other concessions available.