Virginia Science Museum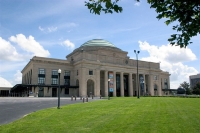 Virginia Science Museum © David Bjorgen
The hands-on Virginia Science Museum allows visitors to touch, feel, observe and explore the impact of science on their lives, covering everything from astronomy to computers, and crystals to flight engineering. Permanent exhibitions include Foucault's Pendulum, Gravity Alley, Electriworks, Watt Wall, and the fun Imagination Playground. Live demonstrations are given daily on each level: Level One has programmes aimed at younger children, while the Levels Two and Three demonstrations include animal dissections. Other special events are held regularly, with schedules available on the website. The Science Museum is housed in a soaring historic building, the former Broad Street Station designed in 1919 by John Russell Pope. The fascinating and fun museum is complemented by a 275-seat Ethyl Universe Planetarium and Space Theatre that screens Omnimax films on the domed screen, as well as providing multimedia planetarium shows.
Address: 2500 West Broad Street
E-mail: info@smv.org
Website: www.smv.org
Telephone: (804) 864 1400
Opening times: Monday to Saturday 9.30am-5pm, Sunday 11.30am-5pm
Admission: Exhibits only: $15 adults, $10 children, other concessions available.