National Mall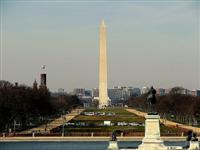 The Washington Mall © Jorge Gobbi
Extending for more than two miles (3km), from the US Capitol to the Potomac River, the tree-lined grassy strip known as the National Mall is the central hub of tourist activity in Washington DC, containing many of the city's most famous attractions. It is home to the tapering Washington Monument; the Lincoln, Roosevelt and Jefferson Memorials; the Capitol building; the White House; the museums of the Smithsonian Institution; and the National Gallery of Art.
The Mall is at the heart of the city's social life, the site for many celebrations and festivals throughout the year, and used by scores of joggers, picnickers, food vendors, and strollers daily. It is also a popular site for rallies and protests ranging from a few dozen to a few million people. The Tidal Basin, a beautiful lake famous for the blossoming Japanese cherry trees in spring, lies to the south.
Website: www.nps.gov/nama
Telephone: (202) 426 6841 (Visitor information)
Transport: Smithsonian metro station
Opening times: The park is open 24 hours daily.
Admission: Free.