US Capitol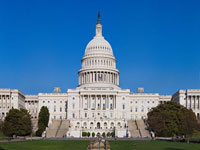 US Capitol ©
The heart of US government is also Washington DC's most prominent landmark, the US Capitol, situated on the top of Capitol Hill, with its giant white dome visible from all over the city. It is one of the city's top tourist attractions, as well as the most recognised symbol of democracy, and contains the Senate and the House of Representatives, as well as the Supreme Court and the Library of Congress, the largest library in the world. Under the magnificent dome, US governmental policy is shaped and the law of the land is practiced. The interior is richly embellished, with hundreds of statues filling Statuary Hall in honour of important people in the country's history, while paintings and murals decorate the hallways and walls of the Rotunda, depicting 400 years of American history. The enormous circular hall capped by the 180-foot (55m) high dome is the hub of the Capitol, with a symbolic fresco masterpiece at its centre. The Rotunda links the north and south wings, the two halves of the Capitol that contain the Senate and House of Representatives respectively, and flags flying over either wing indicate which part of Congress is in session.
Address: Capitol Hill
Website: www.visitthecapitol.gov
Telephone: (202) 224 3121 (general information), (202) 225 6827 (tour information)
Transport: Union Station Metro, Federal Center NW or Capitol South stations are all within walking distance
Opening times: Visitor's Center: Monday to Saturday 8:30am to 4:30pm. Closed Christmas Day and Thanksgiving. Access is by guided tour only, and tickets must be booked in advance online. Some tickets are usually available on a first-come, first-served basis.
Admission: Free.