White House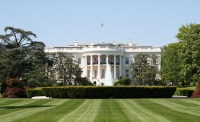 White House © Mark Skrobola
The White House has been the private residence and administrative headquarters of every President of the United States since 1800. Today an American flag flies over the house whenever the president is in residence. Situated at the edge of the National Mall, the palatial building has undergone numerous alterations over the years, which have included refurnishing and expansion, the addition of the first toilets by Jefferson, and electricity added during Harrison's presidency, as well as personal inclusions by each of its presidential occupants. The White House was adapted to the needs of Franklin D. Roosevelt who suffered polio and a swimming pool was installed; Jacqueline Kennedy developed the famous Rose Garden; Clinton added a jogging track, hot tub and humidor; and the most recent addition is the vegetable garden planted by Barack and Michelle Obama.
Tours visit several rooms on the Ground and State Floors, including the Oval Office, the State Dining Room with seating for 140 dinner or luncheon guests, and the Gold and White East Room that is the publicised scene of presidential receptions and other social events. The top two floors are private. The visitor centre provides interesting historical information about the residence and its occupants. The custom that allows free public tours of the president's private home is only stopped during wartime.
Security is understandably very tight and travellers wanting to visit will need to provide personal details in their application through the appropriate Washington DC embassy.
Free guided tours are the only means of exploring the White House. American citizens can book these tours through their Member of Congress and foreigners must book through their embassy in Washington DC. Tours should be booked as far in advance as possible.
Address: 1600 Pennsylvania Avenue NW
Website: www.whitehouse.gov
Telephone: (202) 456 1414
Transport: McPherson Square, Federal Triangle or Metro Center metro stations
Opening times: Tuesday to Thursday 7.30am-11.30pm, Friday to Saturday 7.30pm-1.30pm, closed Monday and Sunday.
Admission: Free.