Washington Monument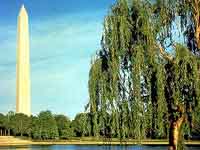 Washington Monument ©
In recognition of his leadership in the fight for American independence, George Washington earned the title 'Father of the Nation', and was the first president of the United States. The Washington Monument was built in memory of this great leader. As the tallest structure in the city, situated at the western end of the Mall, the gleaming white obelisk offers 360-degree panoramic vistas with some of the most familiar sights in the world in view, including the White House, US Capitol, Smithsonian museums and the Lincoln Memorial. Constructed out of loose granite blocks without the use of cement to hold them together, the monument is the tallest freestanding masonry structure in the world, a 555-foot (169m) marble obelisk that stood uncompleted for 37 years. A change in the colour of stone is visible about halfway up and marks the two building phases. In 1888 a steam elevator transported visitors to the top, a 20-minute ride that was restricted, for safety reasons, to men only. Women could walk up the 897 stairs. Today climbing the steps is prohibited, but a free 70-second elevator conveys visitors to the gallery that provides unparalleled views of Washington, DC and across the Potomac River.
Address: 15th Street and Constitution Avenue, NW
Website: www.nps.gov/wamo
Telephone: (202) 426 6841 (park information), or to book advance tickets (877) 444 6777
Transport: Smithsonian metro station
Opening times: Note: The monument is currently closed indefinitely due to safety concerns in the aftermath of the October 2011 earthquake. Ordinarily the monument is open daily 9am to 5pm. The ticket kiosk in the grounds is open daily 8:30am to 4:30pm, but as a limited number of first-come, first-serve tickets are obtainable daily, it is advisable to queue early.
Admission: Although admission is free, a ticket is required to enter the monument and ascend to the top. Advance ticket reservations are subject to a $1.50 fee per ticket and a handling charge of $0.50 per order.