Lincoln Memorial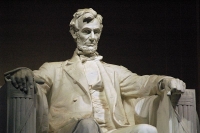 Lincoln Memorial © Jeff Kubina
The grandiose Lincoln Memorial is a tribute to the 16th US president, who preserved the Union during the Civil War and ended slavery. It also serves as a Civil War memorial, symbolising the ideas of Freedom and American Democracy. The use of classical architecture, modelled on a Greek temple, is to remind people of the ancient Greeks who were the first modern culture to have a democratic government. In the centre of the memorial, surrounded by 36 white columns representing the 36 states in Lincoln's Union, is a huge marble statue of Abraham Lincoln who, seated, stares out over the Reflecting Pool towards the Washington Monument and Capitol Hill. Carved in the walls of the memorial chamber around the statue are inscriptions of two of his most famous speeches, the Gettysburg Address and his Second Inaugural Address, and above each is a painted symbolic mural.
The memorial is the site of numerous demonstrations committed to justice, most notably the Civil Rights March in 1963 when Martin Luther King delivered his classic 'I Have a Dream' speech. A bookshop and museum, detailing a photographic history of famous events that occurred on the steps, are nearby.
Address: 23rd Street
Website: www.nps.gov/linc
Telephone: (202) 426 6841 (park information)
Transport: Foggy Bottom metro station
Opening times: Open daily 24 hours.
Admission: Free