Federal Bureau of Investigation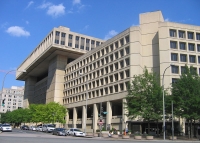 J. Edgar Hoover Building © Aude
Officially named the J. Edgar Hoover FBI Building, after its notorious long-time director, this rather ugly concrete structure is headquarters of the Federal Bureau of Investigation.
The FBI Experience, a self-guided tour, is open to the public and explores the Bureau's past and current work to protect the nation. The tour takes visitors through the Material Analysis Unit and crime laboratories where fingerprinting, DNA, and ballistics testing takes place; past displays of thousands of confiscated weapons and illegal items seized during narcotics operations; exhibits on crime fighting techniques and counterintelligence operations; as well as other presentations on terrorism, agent training, some famous cases, and photographs of the FBI's 'Ten Most Wanted List'.
Due to security reasons, the tours are only available to U.S. citizens or valid green card holders. Visitors must request a visit to the Bureau from their congressional representative. The tour must be booked at least 4 weeks in advance and visitors must be given FBI clearance to enter the building. Those in search of espionage history, however, should go to the nearby International Spy Museum.
Address: 935 Pennsylvania Avenue
Website: www.fbi.gov
Transport: Federal Triangle metro station
Opening times: Monday to Friday 9am-3pm.