International Spy Museum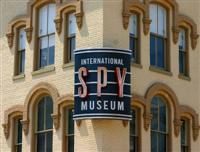 The International Spy Museum, Washington DC © David
One of Washington's newest museums, the International Spy Museum is said to feature the largest collection of publicly displayed international espionage artefacts in the world. It is the result of years of planning and advice by former officials of the CIA, FBI and KGB, as well as some of the nation's top experts in intelligence. It aims to educate the public about espionage and its vital role and impact on historic and current events.
Interactive exhibits cover the history of spying, famous spies, spying during the World Wars with an exhibit on unheeded intelligence that warned of the Pearl Harbour attack, sophisticated espionage techniques of the Cold War, and the latest spy trends and challenges of 21st century espionage. There is also a section dealing with high-tech gadgets such as bugs, tiny cameras and ingenious disguise techniques, with interactive stations exploring surveillance, disguises, code breaking, threat analysis and more.
Operation Spy is an interactive experience in which visitors get to be a spy; hands-on activities include safe-cracking and conducting polygraph tests, experiences which are combined with special effects and live action. The museum complex includes a restaurant, spy-theme cafe and shop.
Address: 800 F Street
Website: www.spymuseum.org
Telephone: (202) 393 7798
Transport: Gallery Place/Chinatown or National Archives/Navy Memorial metro stations
Opening times: Open daily from 9am to 7pm.
Admission: $21.95 (adults); $14.95 (youths aged 7 - 11); free for children under six. Other concessions available.