Smithsonian Institution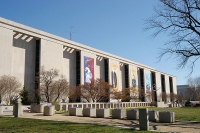 National Museum of American History © lorax
Nicknamed the nation's attic, the Smithsonian Institution is one of the world's finest research centres, incorporating 19 excellent museums, nine research centres, and a zoo spread over Washington DC, New York, Virginia, and Panama. Most of the museums are located in Washington DC. The centre was the brain-child of British scientist James Smithson who stipulated in his will that lacking heirs, his entire fortune would go the United States 'to found at Washington, under the name of the Smithsonian Institution, an establishment for the increase and diffusion of knowledge among men'. The Institute's original home was in the red brick building known as The Castle that stands on the Mall. The need to accommodate facilities for scientific research as well as housing all the science and art collections amassed resulted in the construction of more buildings along the Mall. Today the Castle houses the Smithsonian Information Center, which provides an overview of all the museums and the zoo.
The museums contain collections of historical importance on almost every subject. Museums include the National Air and Space Museum, packed with full-size space and aircraft, including the Wright brothers' plane; the Natural History Museum, with the Hope Diamond and the world's largest stuffed blue whale; and the American History Museum, displaying the original Kermit the Frog. Other museums include the Freer and Sackler Galleries of Asian Art, the African Art Museum, the American Indian Museum, the Arts and Industries Building hosting changing exhibitions, the Hirshborn collection of modern art, the National Portrait Gallery, and the National Postal Museum.
The Smithsonian Museums are a fantastic attraction for families in Washington DC, and a wallet-friendly one as admission is free.
Address: Smithsonian Castle Visitor Center, 1000 Jefferson Drive
E-mail: info@si.edu
Website: www.si.edu
Telephone: (202) 633 1000
Transport: Smithsonian metro station. The DC Circulator bus provides transportation between the museums.
Opening times: Opening times vary depending on the museum - see the official website for details.
Admission: All museums are free.