US Holocaust Memorial Museum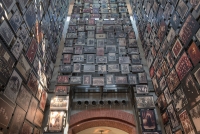 Tower of Faces, Holocaust Memorial Museum © Dsdugan
The United States Memorial Museum is a memorial to the millions of Jews murdered by the Nazis between 1933 and 1945. There are three floors, starting with the occupation of Poland, then the Holocaust and finally the aftereffects of the war and liberation of the camps. While the exhibits convey the scale of the genocide through voice recordings, personal belongings of victims and Nazi propaganda, the Hall of Remembrance remains a quiet place of reflection, filled with dozens of burning candles lit in memory of the victims. The permanent exhibition's graphic content can be disturbing and is not recommended for children under 11 years of age.
Address: 100 Raoul Wallenberg Place
Website: www.ushmm.org
Telephone: (202) 488 0400
Transport: Smithsonian metro station
Opening times: Daily 10am to 5.20pm.
Admission: Entry is free year-round, but between March and August timed passes are required for the permanent exhibition. These passes can be booked in advance through the official website.