The Royal Palace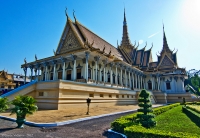 The Royal Palace, Phnom Penh © Justin Vidamo
The Royal Palace is one of the principal attractions of Phnom Penh and contains the best examples of 20th-century Khmer architecture in the city. It has remained the official residence of the kings of Cambodia since 1860. Set among the perfectly manicured gardens are the exquisite Throne Hall, the Elephant Pavilion, the Royal Treasury and the Chan Chhaya Pavilion, built especially for performances of classical Cambodian dance.
Although much of the palace is off-limits, the Silver Pagoda with its floor of silver tiles is open to visitors. The internal walls are decorated with frescoes depicting episodes of the Ramayana myth, painted in 1903 by 40 Khmer artists. It is also called the Pagoda of the Emerald Buddha, a tribute to the magnificent baccarat crystal image of the Emerald Buddha that sits in the centre.
There are other intricately carved Buddha images on display, notably the life-size solid gold statue that stands in front of the pedestal, decorated with 9,584 diamonds. Visitors should remember to dress conservatively and respectfully when visiting the Royal Palace; bare shoulders or legs are frowned upon within the complex.
Address: 63, Street 348, Sangkat Toul Svay Prey II, Khan Chamkamorn, Phnom Penh
Opening times: Daily 8am-10.30am, 2pm-5pm.
Admission: $10 per person.