Seattle Space Needle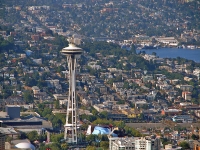 Space Needle © informant
Anyone who has seen a picture of the Seattle skyline will be familiar with Seattle's internationally recognised symbol, the futuristic Space Needle. Visitors can get to the top of the historic landmark using one of the elevators that travel at ten miles an hour, reaching the observation deck within 43 seconds. Visitors can ascend the 607ft (185m) building as far as a revolving observation deck 520ft (158m) above the city, where high-powered telescopes are positioned to allow you to pick out the city sights. There is a revolving restaurant on top of the tower that allows visitors to take in every part of the panoramic views while enjoying a meal.
Address: 400 Broad Street
Website: www.spaceneedle.com
Telephone: (206) 905-2100
Transport: Monorail from downtown
Opening times: Daily 8am-12am.
Admission: $26 adults, $17 children 5-12, other concessions available.