Museum of Pop Culture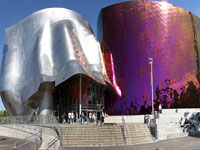 Experience Music Project © Cacophony
Housed in a bizarre building at the base of the Space Needle is one of Seattle's most popular attractions, the Museum of Pop Culture. Its exhibit on Jimi Hendrix features artefacts associated with the rock legend, remaining the biggest drawcard at the museum. Other collections include the general history of American popular music, and another dedicated to Seattle's other famous musician, Kurt Cobain. Displays range from the first electric guitars to interactive rooms where visitors try their hands on turntables or playing instruments. A Science Fiction Hall of Fame honours the lives, works and ongoing legacies of some of the world's most influential science fiction writers, amongst them Ridley Scott, George Lucas and H.G. Wells. The museum is also the venue for numerous concerts.
Address: Seattle Center, 325 Fifth Avenue North
E-mail: info@mopop.org
Website: www.mopop.org
Telephone: (206) 770 2700
Opening times: Daily 10am-7pm (June to August); 10am-5pm (September to May).
Admission: $36 adults, $21 children 5-17. Other concessions available, and discounted tickets available via the website