Pioneer Square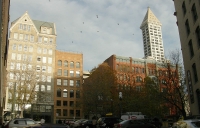 Pioneer Square © Joe Mabel
Billed as 'where Seattle begins', the historic district of Pioneer Square features more than 20 city blocks of historic buildings, more than 30 galleries, a vibrant retail sector, and the city's most exciting nightlife. Some of the businesses that have premises on the square are Intrigue Chocolates, the Bicycle Alliance of Washington, Gallery Frames, Distant Lands, and many more.
The district is south of the main downtown area and encompasses two major attractions. The Klondike Gold Rush National Historical Park recalls the days when Seattle was a jumping off point for hopefuls heading for the goldfields. Another visitor favourite is the unique Underground Tour, taking in the sunken storefronts of the original 'Skid Road', where timber used to be slid down to the steam-powered mills on the shores of Elliott Bay.
On the first Thursday of every month, the square hosts First Thursdays Art Walks when all the art galleries and museums remain open for the evening, serving snacks and drinks and allowing visitors to mingle and visit while looking at the artwork on display. Holiday Trivia Nights are also hosted at various venues on the square, giving attendees a chance to pit their trivia skills against one another.
Website: www.pioneersquare.org
Telephone: Pioneer Square Community Association: (206) 667 0687