Snoqualmie Falls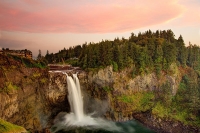 Snoqualmie Falls © Meher Anand Kasam
About an hour's drive into the Cascades Mountains east of Seattle is the resort of Snoqualmie Falls, where the Salish Lodge and Spa is famous for having been the setting for many scenes from the hugely popular television series, Twin Peaks. The dramatic falls plunge 270 feet (82m) down a precipice into a pool of deep blue water, close to the town of North Bend, drawing more than 1.5 million visitors every year. The world's first underground electric generator still operates behind the falls.
There are several hiking trails in the area and picnic sites with a view of the waterfall. Snoqualmie also contains four ski slopes: Alpental, Snoqualmie Summit, Ski Acres, and Hyak. In the town of Snoqualmie is the Northwest Railway Museum and the historic Snoqualmie Valley Railroad, which runs steam train trips to North Bend between May and October.
The Snoqualmie Falls Candy Factory is well worth a visit when in the area, boasting a 1950's diner-style cafe where visitors can have a burger, fries, and shake followed by dipping into the old-fashioned candy jars, filled with old-timey treats as well as some beautiful and delicious handmade chocolates. Snoqualmie Falls is also famous for its beautifully-packaged oatmeal, pancake and waffle mixes, brownie mixes, cornbread mixes, and more, all available at the Snoqualmie Falls Store.
Address: 6501 Railroad Avenue Southeast
Website: www.snoqualmiefalls.com