Temple Square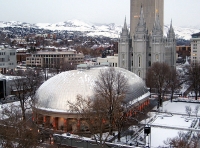 Tabernacle on Temple Square © Leon7
The four-hectare (10-acre) Temple Square complex includes the Mormon Temple, the Tabernacle, and the Assembly Hall. It is at the heart of Salt Lake City, in location and spiritual importance, and the symbolic epicentre of the Mormon religion or Church of Jesus Christ of the Latter-Day Saints. Temple Square is the city's biggest attraction, particularly the majestic six-spired Temple, topped by a golden statue of the Angel Moroni, which forms a striking silhouette on the city's skyline.
The Temple was completed in 1893 after 40 years of heavy labour and the expenditure of millions of dollars. It is a holy place closed to the non-Mormon public. Confirmed believers may enter the Temple, but only for the most sacred of religious ceremonies, and non-Mormons can learn about temple activities at the visitor centres. The Tabernacle is home to the world-famous Mormon Tabernacle Choir, whose weekly rehearsals and organ recitals are open to all free of charge, and illustrate the outstanding acoustics of the Tabernacle building. The Gothic-style Assembly Hall, constructed from granite left over from the Temple, is the venue for concerts and lectures. The two visitor centres, North and South, contain religious murals and paintings, exhibits, and presentations about the Mormon faith, a film depicting the arrival of the first Mormon pioneers in Salt Lake City, and photographs of the Temple interior.
Address: 50 North Temple
Website: www.visittemplesquare.com
Telephone: (801) 531 1000
Opening times: Daily 9am-9pm.