Utah State Capitol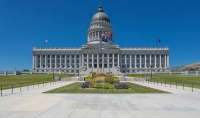 Utah State Capitol © Andrew Smith
Modelled after the national Capitol building in Washington DC, the Utah State Capitol sits on a hill above the city, a prominent sight surrounded by acres of landscaped gardens. The building was designed by Richard K.A. Kletting in 1914, and was ahead of its time as the plans included reinforced steel, lifts, and extensive use of natural light. Memory Grove, to the east of the building, contains statues honouring Utah veterans, and the grounds are a favourite destination for joggers and walkers.
The impressive granite structure of the Capitol building is crowned by a copper dome and fronted by columns, representing one of the greatest examples of the Renaissance Revival style in the nation. A colossal chandelier illuminates the interior walls that are covered with murals illustrating Utah's history. Several busts proclaim the state's prominent figures, including Brigham Young, leader of the Mormon pioneers who founded Salt Lake City. Marble staircases lead to the third floor where the Senate, House of Representatives, and the Supreme Court of Utah are based. The state legislature meets in January and February and visitors are welcome to sit in the galleries overlooking their chamber. Visitors can choose to wander through the building alone or join a guided tour.
Address: 350 North State Street 120 State Capitol
E-mail: capitoltours@utah.gov
Website: www.utahstatecapitol.utah.gov
Telephone: (801) 538 1800
Opening times: Monday to Friday 7am–8pm, Saturday to Sunday 8am–6pm.
Admission: Free.