Pioneer Memorial Museum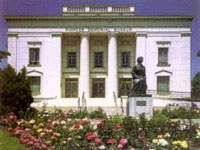 Devoted to objects connected with historical events, the Pioneer Memorial Museum is crammed with photographs, furniture, textiles, toys and a doll collection from the daily lives of the pioneers that have been painstakingly collected by the Daughters of the Utah Pioneers. All four storeys are full of relics of Utah's history, including personal effects of Mormon leader Brigham Young. Amongst the artefacts included in the museum's collection are paintings by famous Utah artists, guns, quilts, flags, furniture, books, clothing, samplers, medical and dental tools, coaches, a 1901 fire engine, sewing implements and much, much more. Many of the artefacts come with stories about the original owners, and the museum attendats are happy to enlighten visitors regarding these histories. The museum collection is said the be the largest collection in the world focused on one subject. A short film is shown every half hour. Residents of Utah are encouraged to come to the museum, to research their family history witht he help of museum attendants.
Address: 300 North Main Street
Website: www.dupinternational.org
Telephone: (801) 532 6479
Transport: Bus 23 from the city centre
Opening times: Open Monday to Saturday from 9am to 5pm year round; open till 8pm on Wednesdays; closed Sundays.
Admission: Free, but donations are welcome