Dinosaur National Monument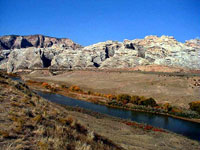 The Dinosaur National Monument straddles the border between Utah and Colorado. The reserve was created to preserve the layers of rock in which Jurassic Era dinosaur skeletons and bones were found embedded at a site in the Utah section of the Monument area. In 1909 an exposed sediment riverbed was discovered to contain layers of prehistoric plant and animal fossils. A quarry went into operation on the site, where full dinosaur skeletons as well as fossilised remains of sea creatures up to three times older than dinosaurs were excavated. A visitor centre has been built over the quarry to protect the fossils, and forming one of the walls is the exposed rock layer containing over 2,000 dinosaur bones that has been enclosed as a permanent exhibit. (This is currently closed, but visitors can see fossils by hiking half a mile (1km) from the temporary visitor's centre). Although the quarry is often the main reason for visiting the Dinosaur National Monument, the area also contains acres of some of the most beautifully rugged mountain scenery in the north, with colourful sandstone cliffs, deep river canyons and forests, along with a number of scenic hiking trails, unique wildlife and thrilling whitewater rafting on two of the Colorado River's fast-flowing tributaries.
Website: www.nps.gov/dino
Telephone: Temporary Visitor Center: (435) 781 7700
Transport: There is no public transport to the park
Opening times: Open daily from 9am to 5pm.
Admission: $10 per car, $5 per person for walk-ins and bicycles