Tuol Sleng Museum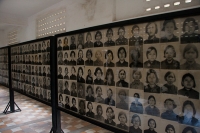 Tuol Sleng Museum © Christian Haugen
When the Khmer Rouge came into power in 1975, they commandeered and converted a secondary school into a primitive prison where they detained and tortured anyone suspected of anti-revolutionary behaviour. Between 1975 and 1979, an estimated 20,000 victims were imprisoned in Security Prison 21, or S21, as it was known. The building appears almost exactly as the fleeing Khmer Rouge left it, and serves as a testimony to the crimes and atrocities of the organisation.
It is a tremendously moving experience. The photographs, instruments of torture, and bloodstained walls give a thorough idea of the extent of the pain and horror borne by the Cambodian people. Thousands of victims were transported from here to the extermination camp outside the city, Choeung Ek (The Killing Fields), to be killed. There are some first person accounts on display at the museum, despite the fact that of the estimated 20,000 prisoners incarcerated in S21 there are only 12 known survivors.
Address: Corner of Street 113 and Street 350, Boeng Keng Kang
E-mail: info.tsgm@gmail.com
Website: tuolsleng.gov.kh
Telephone: 023 6655 395
Opening times: Daily from 8am-5pm.
Admission: $3 per person.