Dallas Heritage Village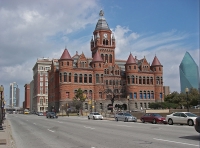 Tours of buildings in Dallas © Leaflet
The city of Dallas' history is preserved in a living museum nestled in 13 wooded acres just south of downtown, known as Old City Park.
This historical village consists of 38 buildings and houses, including a working farm, elegant Victorian homes, a school, church, general store, saloon and a bank that is alleged to have been robbed by Bonnie and Clyde, all dating from between 1840 and 1910. All the structures in this recreated turn-of-the-century village have been collected from various locations in and around Dallas, and restored and re-assembled here.
Visitors are encouraged to make themselves at home in the village and interact with the houses, shops and other buildings. Visitors are also welcome to bring picnic lunches along and enjoy them on the park's lawns. The museum hosts several seasonal and year-round programs, such as the Plow, Plant and Shear program that tkaes visitors through the farming process.
Address: 1515 South Harwood Street, Dallas
Website: www.dallasheritagevillage.org