Sixth Floor Museum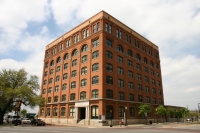 Sixth Floor Museum located at the former Texas School Book Depository © Weatherdrew
The assassination of President John F. Kennedy is commemorated in the Sixth Floor Museum at Dealey Plaza where the 1963 shooting took place. Most chilling of the exhibits is the window area in the former Texas School Book Depository building from where sniper Lee Harvey Oswald allegedly fired the fatal shots at the 35th President's motorcade.
The sixth floor of the museum also documents Kennedy's life and legacy, featuring more than 20,000 artefacts and a large amount of archival material, recreating the socila and political climate of 1963 and making the assasination a reality to those who didn't live through it. The seventh floor hosts temporary exhibits related to the shooting in some way, such as A Photographer's Story: Bob Jackson and the Kennedy Assasination, and Dallas Law Enforcement: Voices from History.
A granite marker at the corner of Houston and Main Streets outside shows where Kennedy was assassinated and a memorial stands in nearby John F. Kennedy Plaza. Visitors to the museum can also view the Zapruder film of the assassination.
Address: 411 Elm Street, Dealey Plaza, Dallas
Website: www.jfk.org
Telephone: +214 747 6660
Opening times: Monday 12am-6pm, Tuesday to Sunday 10am-6pm