Fort Worth Stockyards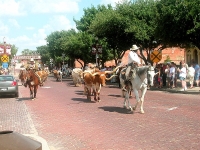 Fort Worth Stockyards © Lyndi & Jason
Fort Worth is one of the best places to experience the romance and mystique of the American Wild West, and the Stockyards National Historic District is the ideal starting point. The district encompasses 15 blocks packed full of exciting 'cowtown' attractions, from rodeos to cattle drives, country music shows, shops selling genuine cowboy gear, saloons and Texan diners, and the 'Tarantula Train' steam railway on which regular re-enactments of a train robbery are performed.
The Stockyard District is also the venue for several annual festivals and western events and home to the world-famous Billy Bob's Honky Tonk, a giant (three acre) country music club comprising an indoor rodeo, a massive dance floor, many bar counters, cafes and restaurants, and a general store. Further attractions in the district include the Texas Cowboy Hall of Fame, the Jersey Lilly Old-time Photo Parlour, the Fort Worth Stockyards Stables, and the Stockyards Museum. The area also offers plenty of barbecue restaurants and steakhouses.
Address: Intersection of Main Street and East Exchange Avenue, Fort Worth
Website: www.fortworthstockyards.org
Opening times: Museum: Monday to Saturday 10am-5pm, Sundays (June to August only) 12pm-5pm.
Admission: Museum: $2 donation