Modern Art Museum of Fort Worth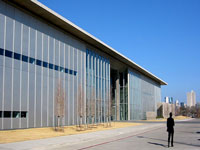 Modern Art Museum of Fort Worth © Andreas Praefcke
Fort Worth's Modern Art Museum is second only in size to its counterpart in New York, and is the oldest art museum in Texas. Its permanent collection of modern and contemporary paintings includes works by Picasso, Andy Warhol, Rauschenberg and Pollock, and is particularly strong on works in the pop and minimalist genres, as well as German art from the 70s and 80s. The museum also hosts visiting exhibitions and features a large sculpture collection. Altogether, the permanent collections on display amount to 3,000 works. The building has 53,000 square feet of gallery space and a state-of-the-art auditorium regularly hosting performances and shows.
Address: 3200 Darnell Street
Website: www.themodern.org
Telephone: (817) 738 9215
Opening times: Tuesday to Thursday and Saturday to Sunday 10am-5pm, Friday 10am-8pm, closed Monday.
Admission: $16 adults, free for children, other concessions apply.