Cattle Raisers Museum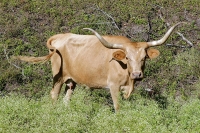 A Texas Longhorn cow. © Ed Schipul
Established in 1979, the Cattle Raisers Museum is dedicated to telling the story of the cowboy and cattle ranching industry of the southwest. Talking mannequins, interactive exhibits, authentic artefacts, and theatre presentations are used to bring alive the legends and lore of the Wild West, from Texas Rangers to rustlers.
The exhibitions cover four broad eras of cattle herding: the Open Range trail from 1850 to 1890, the New Horizons trail from 1890 to 1940, the Vision trail from 1940 to 2000, and the Digital trail, from 2000 to the present day. Several exhibits are named after those who donated to them or played an important role in cattle herding, such as the Ken Spain Saddle Collection, the Joe Russel Spur Collection and the Leonard Stiles Branding Iron Collection, the largest collection of branding irons in the world.
Address: Located within the Fort Worth Museum of Science and History, 1600 Gendy Street, Fort Worth
E-mail: cattleraisersmuseum@gmail.com
Website: www.cattleraisersmuseum.org
Telephone: +817 332 8551
Opening times: Daily 10am-5pm.
Admission: $15 adults, $12 children, other concessions available.