Fort Worth Zoo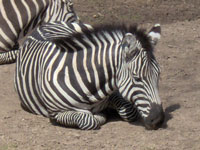 Zebra at Fort Worth Zoo © Awesomenessiscool
Fort Worth's Zoo started off quite humbly in 1909 with one lion, two bear cubs, an alligator, a coyote, a peacock, and a few rabbits. Since then the zoo has grown and is now ranked as one of the top five in the United States, home to more than 5,000 animals living in natural habitat settings like Raptor Canyon, the Koala Outback, and Asian Falls.
A recently opened new eight-acre section called Texas Wild takes visitors on a journey through the state to see indigenous animals like swift foxes, ocelots and white-tailed deer. This section includes a mock-up of a Texas town with a restaurant, store, saloon, and jailhouse. Another popular diversion here is the chance to try managing a computer-simulated ranch.
Even more recently, a Parrot Paradise, Great Barrier Reef display, Penguins exhibition and a Museum of Living Art (MOLA) have been opened. In addition to wildlife focused attractions, there are further entertainments available, such as a rock-climbing tower, a movie theatre, a carousel, a small express train, a weather theatre, and a shooting gallery.
Address: 1989 Colonial Parkway, Fort Worth
E-mail: info@fortworthzoo.org
Website: www.fortworthzoo.org
Telephone: (817) 759 7555
Opening times: Daily 10am-5pm
Admission: $14 adults, $10 children.