Fort Worth Zoo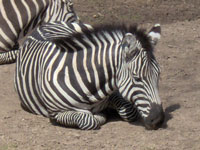 Zebra at Fort Worth Zoo © Awesomenessiscool
Since its humble beginnings, Fort Worth Zoo now ranks as one of the best in the United States. More than 5,000 animals live in enclosures around the zoo, reflecting their natural habitats. African lions lounge, Asian elephants trumpet and stunning white tigers sit resplendent in their snowy coats. Striking Sumatran orangutans perch in their trees as the imperious Komodo Dragon transfixes onlookers. The zoo also boasts loads of reptiles, amphibians and birds, along with its fair share of marine life and creepy crawlies. Along with a movie theater and petting corral, the zoo also partakes in conservation programs and educational entertainment, such as its Outdoor Learning Theater.
Address: 1989 Colonial Parkway, Fort Worth
E-mail: info@fortworthzoo.org
Website: www.fortworthzoo.org
Telephone: (817) 759 7555
Opening times: Daily 10am-5pm
Admission: $14 adults, $10 children.